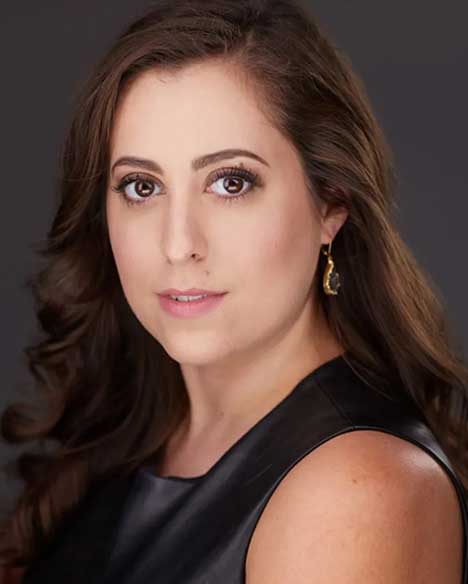 Voice Instructor
Praised for her "voice [that] shines with a winsome, lyric luster," soprano Elena Galván, from Ithaca, NY, is gaining recognition as a young soprano with "deft timing and repartee of a natural comedienne." Elena's 2020 season begins with a filmed and virtually produced Gianni Schicchi with Opera Ithaca in which she performs the role of Lauretta. She will also return to First Coast Opera to perform the title role in a workshop of "Penelope Ann's Revenge" by Curt Tucker. "Elena's 2019/20 season brought four role debuts in her return to Opera San Jose; Adele in Die Fledermaus, Gretel in Hansel and Gretel, Papagena and Pamina (cover with orchestral performance) in Die Zauberflöte.  Unfortunately, due to the pandemic, the OSJ production of Die Zauberflöte was postponed. She made her house debut with Hawaii Opera Theatre in the role of Susanna in Le nozze di Figaro and also debuted with the Oakland Symphony in 2020 to perform Mahler's Symphony No. 4. Also in the 19/20 season, Elena joined Fort Worth Opera for a virtual workshop of the new composition by James Lowe, Poppea, based on the piece by Monteverdi. Elena returned to the mainstage of Florida Grand Opera in 2019 to perform the role of Susanna in Le nozze di Figaro, and made her role debut of Blondchen in Die Entführung aus dem Serail with Livermore Valley Opera. Elena joined First Coast Opera for a Bernstein Celebration concert and performed Händel's Messiah with the Cayuga Chamber Orchestra, the Arts at Grace Series, and the Binghamton Downtown Singers.
Elena also has performed leading roles with companies such as Florida Grand Opera, Des Moines Metro Opera, Kentucky Opera, Lamplighters Music Theatre, Opera Santa Barbara, Virginia Opera, and Opera Saratoga, as well as performing with Cayuga Chamber Orchestra, the NuDeco Ensemble, Napa Valley Symphony, and more. Elena has been awarded Second Place in the Lois Alba Aria Competition, and Encouragement awards in two districts of the Metropolitan Opera National Council Auditions.
Elena has maintained a private voice studio since 2010. She holds a Bachelor in Music in both Vocal Performance and Music Education from Ithaca College, and a Masters in Music in Vocal Performance from the San Francisco Conservatory of Music. Elena has been a part of Educational Outreach programs through Florida Grand Opera, Kentucky Opera, Virginia Opera, and the San Francisco Opera Guild. Elena has been on the Voice Faculty of Ithaca College's Summer Music Academy for three years, and currently is an Adjunct Voice Faculty at North Broward Preparatory School. | www.elenagalvan.com
Register with the The Girls Choir of South Florida!
Join the premier singing ensemble for girls and young women ages 6 through 18. For More information call 954-533-9227