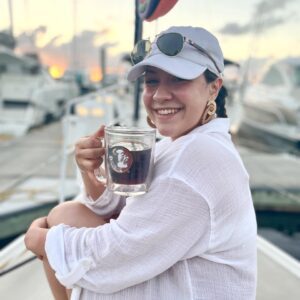 Associate Director
Prelude & Primes Choir
Lorrelle Jock began her musical journey as a student in an elementary music classroom, continually inspired by her teachers. Her mentors greatly contributed to her love of music and more-so her appreciation for community, self-growth and empowerment.
Ms. Jock holds a Bachelors of Music Education degree from Florida State University. While at FSU, she joined Sigma Alpha Iota, a professional women's music fraternity, where she participated in several philanthropic events and ultimately served as president of FSU's chapter in 2016. She was a member of the University Singers advanced performance ensemble and the Women's Glee Club. An additional choir branched from the Women's Glee Club, providing the opportunity to volunteer as a chorister each week at a local women's rehabilitation prison.
A Broward county "transplant" (originally hailing from Miami-Dade county), Ms. Jock began working with the Girl Choir of South Florida in January of 2022 as the Interim Primes Director. She has an incredible amount of love and respect for what the organization stands for: creating a safe, caring community and collaborating through a universal art form.
Ms. Jock currently also teaches at Ramblewood Middle School, where she began building the choir program in 2018. Under her direction, the chorus program has more than tripled in size. Her choirs have received high ratings at district evaluations, and consistently participate in community events both local and state-wide, including performances at the Coral Gables Caroling Competition, the National Anthem Miami Marlin's games, and the Universal Studios Macy's Holiday celebrations. She has been nominated for the Florida Vocal Association's "Lindsay Keller Rising Star Award" in 2021 and 2022, and was named Teacher of the Year at Ramblewood Middle in 2022. She is dedicated to giving all her students opportunities to create music and memories, in the hopes they become lifelong musicians.
She has recently become a member of the Festival Singers of Florida under the direction of Dr. Kevin Fenton, as she wishes to be an example and is devoted to lifelong music education and involvement. She holds memberships in the National Association for Music Education (NAfME) the Florida Vocal Association (FVA), American Choral Directors Association (ACDA).